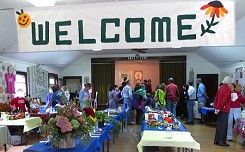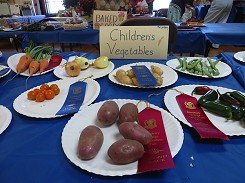 Join Simsbury Grange as we celebrate the plentiful agriculture offerings in the town of Simsbury and surrounding area. Learn more about your local farmers and showcase your own tastiest baked goods and healthiest veggies, fruit, and flowers in our adult contests. Kids can enter one of our many creative contests including original Lego creations and photography! (see below for full lists)
Entry to the Grange Fair is free and all proceeds go to the Simsbury Grange.
Categories for judging include: Baked Goods, Flowers, Vegetables, Fruit, Needlework, Art, Legos and Canning.
• Deadline for Entries is September 5th. Online entry form: http://www.simsburygrange.org/simsburyfairentry.asp
• Judging will take place at 9 AM Saturday the day of the fair. All entries must be in place Friday between 5 PM - 7 PM or between 8 AM and 8:45 AM the day of the fair.
• The decisions of the judges are final.
• Cash prizes and ribbons awarded according to the number of entries.
• Baked goods, vegetables and fruit entries are sold to benefit the community via Simsbury Grange # 197.
• Exhibitors, crafters and non-profit displays are welcome as space permits.
• We also have a bake sale, silent auction and tag sale. We welcome any items you wish to donate!
Online entry form: http://www.simsburygrange.org/simsburyfairentry.asp
More Information
Fair Brochures are available at the Simsbury Town Hall - Flamig Farm - the Senior Center - and the Simsbury Library.
There is also a link to a pdf of the Fair Brochure at the bottom of this webpage.
Location
We are at 236 Farms Village Road (Route 309) in West Simsbury, across from the fire station and post office - near Tulmeadow Farm!